What the SCHERM Group offers you
About 1,500 team players help move thousands of tons every day and make logistics what it is. Whether on the fork lift or in the truck, or even in the administration - together we are the SCHERM Group.

Motivation
...is the motor. We make a point of ensuring good working conditions and optimal HR structure to encourage a team spirit and motivate our employees.
---

Fairness
We reward the commitment and flexibility of our employees with a fair remuneration.
---

Security
It is in the best interests of all to ensure the continued existence of the company and thereby offering job security wherever possible.
---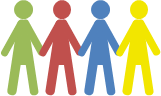 Tolerance
At the SCHERM Group, we focus on people. Mutual appreciation and cooperation are the mainstays of our corporate culture. This includes respect and tolerance for people with foreign origins and for their customs.
Back