Taking responsibility is the basic requirement for entrepreneurship. Social responsibility is a duty towards the society we live in, which is why we do everything we can to make it a regular part of the workplace.
Responsibility as an employer
As a family business we have a strong interest in the well-being of our employees. Only satisfied and motivated team-members can meet the demands of our complex logistics services.
We always take an interest in the needs of our employees. It is important to us to promote personal strengths and talents and to ensure a friendly and respectful interaction among the staff. We try to provide additional benefits such as a pleasant working environment and attractive working time models to all of our staff at every one of our locations and in all the various business units.
---
Apprenticeships and the training of young professionals
The SCHERM Group has always trained apprentices and internees. The number of our apprentices is growing continuously, just as their increased responsibility in well-coordinated trainee projects.
We train young people for many different occupations, giving them the opportunity to find out what is right for them - whether it is as a logistics professional, an office manager or an IT professional. Those eager to learn will have the opportunity for further training and specialization.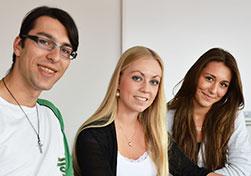 ---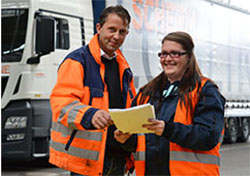 Safety at work
Safety is a vitally important issue for the SCHERM Group. In order to prevent accidents we have established internal safety regulations that exceed those imposed by law. High-tech innovations are used to reduce risks even further. The BlueSpot, for example, warns people on foot optically when a fork lift truck comes close even when it is still hidden by an obstacle.
---
Back